WELCOME TO AAUW MARYVILLE BRANCH 
AAUW Maryville Branch was organized by Margaret Bell Lloyd, wife of Maryville College president Ralph W. Lloyd, in 1942. Since that time, the branch has been active in advancing education for women and girls throughout the community and East Tennessee. AAUW is a group of women and men from all walks of life who enjoy each other's company while promoting opportunities for women and girls.
Branch members and guests are invited to attend all branch activities. The public is welcome to most events; contact the activity if you have questions.

Like us on Facebook at AAUW: Maryville Branch
Coming Events
From National AAUW
Friday, December 6: AAUW Book Group. Noon; Ruby Tuesday in Alcoa (across from the airport).
A Woman is No Man by Etaf Rum. All branch members and guests welcome. Come prepared for a lively discussion.Discussion leader: Linda Spannaus.
In her debut novel Etaf Rum tells the story of three generations of Palestinian-American women struggling to express their individual desires within the confines of their Arab culture in the wake of shocking intimate violence in their community—a story of culture and honor, secrets and betrayals, love and violence. Set in an America at once foreign to many and staggeringly close at hand, A Woman Is No Man is an intimate glimpse into a controlling and closed cultural world, and a universal tale about family and the ways silence and shame can destroy those we have sworn to protect.
Monday, December 16: 5:30 pm, Barlett Hall 101, Maryville College, Maryville TN 37804
Meet Lyda Conley: Activist, Lawyer, Sister. Lyda Conley was the first Native American woman to present a case before the U.S. Supreme Court. She argued that the Wyandotte Cemetery in Kansas City should be protected from sale and development, and that cemetery is now designated a National Historic Landmark, still used for religious and cultural purposes by the Wyandotte Nation of Kansas. Conley's case helped establish the precedent that Native burial grounds have federal protection.
We'll hear Lyda's fascinating story as told by storyteller and author Kate Clabough, who brings her personal family connection and intensive research to shine a light on this colorful and powerful woman!


We'll share cookies and treats to usher in the holiday spirit. Join us on Maryville College campus, Bartlett Hall Rm. 101.
Friday, February 7, 2020: AAUW Book Group. Noon; Ruby Tuesday in Alcoa (across from the airport). All members and guests welcome for lunch and friendly discussion.
Our Women on the Ground: Essays by Arab Women Reporting from the Arab World, by Zahra Hankir.
Nineteen Arab women journalists speak out about what it's like to report on their changing homelands in this first-of-its-kind essay collection, with a foreword by CNN chief international correspondent Christiane Amanpour
"A stirring, provocative and well-made new anthology . . . that rewrites the hoary rules of the foreign correspondent playbook, deactivating the old clichés." —Dwight Garner, The New York Times
Monday, February 17, 2020: Board meeting. 5:30 pm, Bartlett 101, Maryville College campus. All members are invited to attend board meetings.
Recent Branch Highlights
Monday, September 16: College Women Leaders Making a Difference. 
WOW!
Maryville College students Bronte Taylor, Maria Vanegas, and Kirksey Croft  attended the National Conference for College Women Student Leaders (NCCWSL) on scholarships supported by AAUW of Tennessee and the Women's Equity Foundation.
These three leaders inspired the audience with their experiences at the conference in May 2019.  With their outstanding presentation they demonstrated why we can be confident that the young women of today are ready to tackle the problems of tomorrow.
Guests and AAUW members mingled and enjoyed the conversation prior to the presentation.
August 19, 2019 Branch meeting: Power and Privilege in America. A workshop coordinated by Vandy Kemp.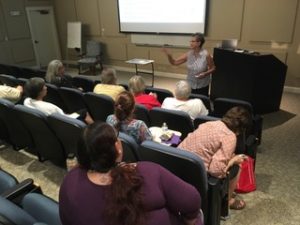 The American Association of University Women strongly supports providing an excellent education for all children, not private school vouchers for a few.
Equal Pay Day 2019
Branch members Karen Coleman and Linda Spannaus are assisted by Photogenic Pup Leila in educating students at Pellissippi State Community College on the pay gap. Branch members have gone to PSCC for several years to deliver pamphlets and Pay Day candy bars to all who will listen.
Equal Pay Day is the symbolic day when women's earnings "catch up" to men's earnings from the previous year. It's also a powerful occasion to raise awareness about and organize action around the gender pay gap.
Monday, April 15: Branch meeting. "Denise J. Dean: Freedom School"
Denise J. Dean is the Project Director for Freedom Schools in Knoxville and Alcoa. This will be the school's second summer in Alcoa. Freedom Schools focus on literacy, integrating it into a broad and engaging curriculum that aims at inspiring students and reinforcing important fundamental concepts. The readers and instructors are drawn from the local communities of each school. The public is invited to come learn more about this exciting educational program! We will begin at 5:30 with time for socializing. A brief business meeting for AAUW members and other interested attendees will follow the program.
Monday, March 28, 2019
Women's Words; Girls' Voices. A celebration of Women's History Month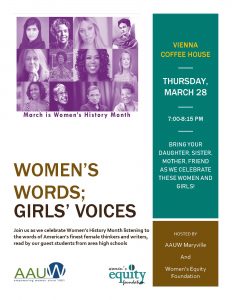 An enthusiastic crowd  joined us in celebrating Women's History Month and applauded our guest area high school and Maryville College students who read the words of some of American's finest female thinkers and writers.
Thanks to Wendy Pitts Reeves, Vandy Kemp, the high school teachers who assisted, the brave young women who read for us, and Vienna Coffee House for hosting!
———————————————-
January 2019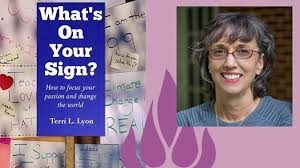 Terri Lyon presented an interesting and inspiring talk at the January 2019 branch meeting. Terri has a Ph.D. in industrial and organizational psychology from the University of Tennessee, Knoxville and is a contributing faculty member at Walden University, the treasurer of a local federal credit union, and a professional arbitrator. In her book, WhatsOnYourSign.com , Terri has shared her extensive research on combining activism and life's passions with others. She blogs about the intersection of activism, altruism, creativity and personal growth at Life At the Intersection (LifeAtTheIntersection.com).
————————————————-

Successful #GivingTuesday Campaign
AAUW Maryville and the Women's Equity Foundation reached the goal to raise $500 on #GivingTuesday! Since 2012, the Tuesday after Thanksgiving has been designated a day of international giving. This year, the Women's Equity Foundation (AAUW Maryville Branch nonprofit arm) participated through Facebook. The goal was to raise $500 to fund the tuition for one of our 3 Maryville College applicants to NCCWSL. Branch members set up fundraisers on their personal Facebook pages to benefit WEF. This was the second time we have utilized #GivingTuesday to raise funds. Thanks to all who participated by sharing our "story" on Facebook and especially those who contributed.
————————————————-
Thursday, October 18, 2018: Tennessee Women Vote "Happy Hour"
Branch members chatted with people about the importance of voting at Vienna Coffee and Public House on High in Maryville. The Simeone family was interested in our activities.  Branch members Kathie Shiba and Jennifer Spirko had information cards on early voting ready for patrons at the Public House.
——————————————————-
Monday, April 23, 2018: Candidates Forum for 2nd District Congressional Race.
Representative John J. Duncan is retiring from the 2nd District Congressional seat.  AAUW Maryville Branch, the League of Women Voters of Blount County, and The Daily Times  partnered to host a forum to introduce candidates for the 2nd Congressional District to the voters of Blount County.  All Tennessee 2nd Congressional District candidates who filed petitions with the State Election Commission and  qualified by April 5, 2018 were  invited to participate. Candidates attending: Jason Frederick Emert, Hank Hamblin, vito Sagliano, David Stansberry, Renee Hoyo, Joshua Williams, Jeffrey A. Grunau, Geg Samples, Marc and Whitmire. This was a nonpartisan event with well over 125 people in attendance.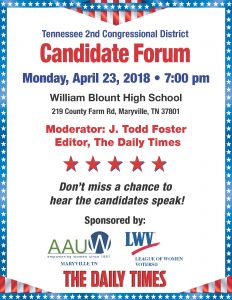 ————————————————–
Super Expanding Your Horizons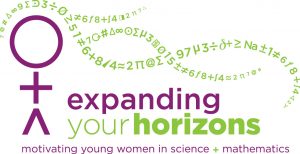 AAUW Maryville Branch and the Women's Equity Foundation sponsored the third Expanding Your Horizons event in East Tennessee organized by AAUW member Maria Toncray. EYH, a conference for girls in middle school, is a daylong event that includes hands-on STEM activities led by active women scientists. The fifty-five girls in attendance met role models and learned about careers in those fields. The 2018 event included a keynote speech by Jaclyn T. Badeau, CPA, CGMA, MBA from Tempur Sealy International, In. in Lexington, KY. Interactive workshops included: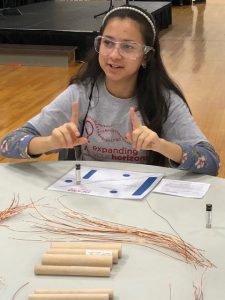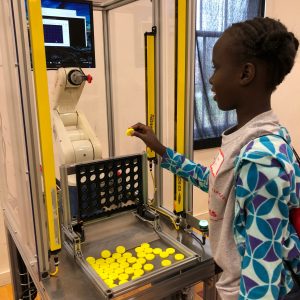 Engineering Design Activities with DENSO engineers and interaction with "Henry the Robot"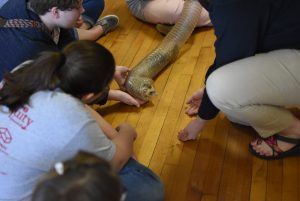 Knoxville Zoo Animal Investigation with live animals guided by Bethany Dunn
Fun with Forensic Chemistry learning crime-solving techniques with Dr. Al Hazari (ret.) of the UT Chemistry Department
Body of Evidence with Tammy L. Jones, TLJ Consulting Group, in which students become CSI sleuths using Texas Instruments calculators to solve a homicide.
Major donors included AAUW Maryville Branch,  Arconic, DENSO, and the Women's Equity Foundation.