WELCOME TO AAUW MARYVILLE BRANCH 
AAUW Maryville Branch was organized by Margaret Bell Lloyd, wife of Maryville College president Ralph W. Lloyd, in 1942. Since that time, the branch has been active in advancing education for women and girls throughout the community and East Tennessee. AAUW is a group of women and men from all walks of life who enjoy each other's company while promoting opportunities for women and girls.
Branch members and guests are invited to attend all branch activities. The public is welcome to most events; contact the activity if you have questions.

Like us on Facebook at AAUW: Maryville Branch
VOTES FOR WOMEN CENTENNIAL CAR PARADE
Hosted by AAUW Maryville & League of Women Voters of Blount County
6:00 pm, August 18, 2020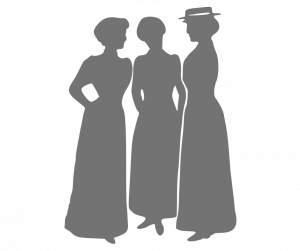 Join us!   This public car parade will celebrate the 100th anniversary of the date the Tennessee legislature voted to ratify the 19th amendment, making it the 36th and deciding state to grant American women suffrage. Our parade is open to anyone willing to follow the guidelines.  For instructions on how to participate and suggestions for decorating your car, click on  VOTES FOR WOMEN car parade 8.18.20
Vandy Kemp in The Daily Times
Vandy Kemp has been burning up the pages of The Daily Times with her cogent columns. Be sure to read the August 7, 2020 submission regarding the centennial of women's right to vote and our sad history of the role of Black women.
Keep it up, Vandy!
Vandy Kemp, Wendy Pitts Reeves, and Jennifer Spirko in the Every  Women Vote campaign
The Every Woman Vote project includes 100 interviews of women in honor of this years centennial of Woman Suffrage: Why do you vote?  AAUW Maryville Branch members Vandy Kemp, Wendy Pitts Reeves. and Jennifer Spirko explain why they are passionate about voting! To see all the interviews go to everywomanvote.me
WEF Publishes Suffrage Play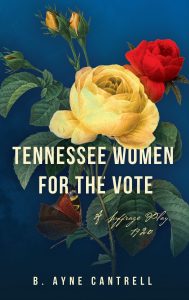 The Women's Equity Foundation, the charitable arm of AAUW Maryville Branch,  announced the publication of Tennessee Women for the Vote, A Suffrage Play, 1920!  In anticipation of the 100th anniversary of the Nineteenth Amendment to the US Constitution.  B. Ayne Cantrell has updated and revised her suffrage play, originally published in Tennessee Women of Vision and Courage.
Proceeds from sale of the book support scholarships for Tennessee college women to attend the National Conference of College Women Student Leaders (NCCWSL).  License fees may be waived for AAUW groups performing the play as a full production or reading. Visit the website of the Tennessee Women Project (a project of WEF) for more information.
AAUW Upcoming Webinars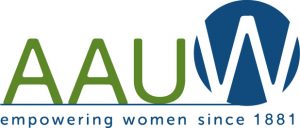 Upcoming Webinar
Thursday, August 6, 5 p.m. ET
Holding Space: How to Start and Continue Conversations on Race, Equity and Inclusion
Join AAUW as we hold space for a collective journey towards gender, race, equity and inclusion dialogue led by Dr. Taharee Jackson. Dr. Jackson expands the capacity of federal agencies, corporations and diverse organizations to achieve their goals for equity, inclusion, belonging and organizational transformation. She is a certified trainer of diversity trainers, Lead Equity Specialist and expert trainer, as well as a federal EEO counselor who is committed to "helping you do your best work in peace." This webinar was made possible through the generous support of GEICO.
Coming Events
Monday, August 3. Board Meeting. 5::30 pm via Zoom. Jennifer Spirko will convey Zoom information. The board will be finalizing plans for celebration of the centennial of the 19th Amendment to the US Constitution. All members welcome.
Friday, August 7. AAUW Book Group  will again meet electronically. All members are invited to participate and share experiences. Autumn Hall will convey Zoom log in information. Invite a friend!
Tuesday, August 18. CAR PARADE!  6:00 PM. The Board and the League of Women Voters of Blount County are co-hosting a car parade on  ratification day for the 19th Amendment, along Broadway in Maryville. Join in!  All who are willing to follow the GUIDELINES are welcome.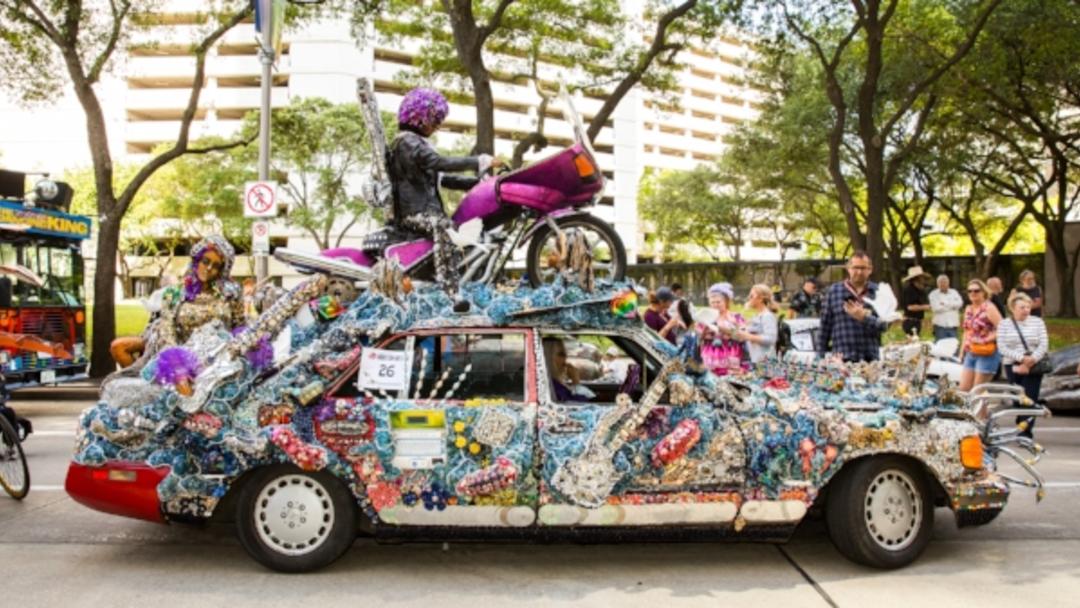 Friday, September 4. AAUW Book Group. Time and place to be determined. The
group will discuss Once Upon a River: A Novel, by Diane Setterfield. On a dark midwinter's night in an ancient inn on the river Thames, an extraordinary event takes place. The regulars are telling stories to while away the dark hours, when the door bursts open on a grievously wounded stranger. In his arms is the lifeless body of a small child. Hours later, the girl stirs, takes a breath and returns to life. Is it a miracle? Is it magic? Or can science provide an explanation? These questions have many answers, some of them quite dark indeed. Once Upon a River is a glorious tapestry of a book that combines folklore and science, magic and myth. Suspenseful, romantic, and richly atmospheric, the beginning of this novel will sweep you away on a powerful current of storytelling, transporting you through worlds both real and imagined, to the triumphant conclusion whose depths will continue to give up their treasures long after the last page is turned.
Friday, October 2. AAUW Book Group. Time and place to be determined. The
Overstory: A Novel by Richard Powers. In his twelfth novel, National Book Award winner Richard Powers delivers a sweeping, impassioned novel of activism and resistance that is also a stunning evocation of―and paean to―the natural world. From the roots to the crown and back to the seeds, The Overstory unfolds in concentric rings of interlocking fables that range from antebellum New York to the late twentieth-century Timber Wars of the Pacific Northwest and beyond, exploring the essential conflict on this planet: the one taking place between humans and nonhumans. There is a world alongside ours―vast, slow, interconnected, resourceful, magnificently inventive, and almost invisible to us. This is the story of a handful of people who learn how to see that world and who are drawn up into its unfolding catastrophe.The Overstory is a book for all readers who despair of humanity's self-imposed separation from the rest of creation and who hope for the transformative, regenerating possibility of a homecoming. If the trees of this earth could speak, what would they tell us? "Listen. There's something you need to hear." A Pulitzer Prize winner.
Recent Branch Highlights
Women's History Month  2020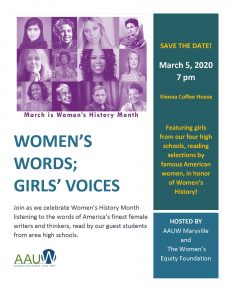 Our wonderful second-annual Women's History Month evening, "Women's Words, Girls' Voices," was  held Thursday, March 5, at Vienna Coffee House (212 College St., Maryville). The event featured students from local high schools reading passages from women's history that they have chosen. This event is  a great opportunity to celebrate our heritage and also our future, as we cheer on these articulate and talented young women.
Monday, September 16: College Women Leaders Making a Difference. 
WOW!
Maryville College students Bronte Taylor, Maria Vanegas, and Kirksey Croft  attended the National Conference for College Women Student Leaders (NCCWSL) on scholarships supported by AAUW of Tennessee and the Women's Equity Foundation.
These three leaders inspired the audience with their experiences at the conference in May 2019.  With their outstanding presentation they demonstrated why we can be confident that the young women of today are ready to tackle the problems of tomorrow.
Guests and AAUW members mingled and enjoyed the conversation prior to the presentation.
August 19, 2019 Branch meeting: Power and Privilege in America. A workshop coordinated by Vandy Kemp.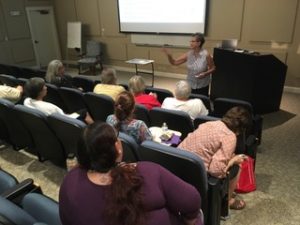 The American Association of University Women strongly supports providing an excellent education for all children, not private school vouchers for a few.
Equal Pay Day 2019
Branch members Karen Coleman and Linda Spannaus are assisted by Photogenic Pup Leila in educating students at Pellissippi State Community College on the pay gap. Branch members have gone to PSCC for several years to deliver pamphlets and Pay Day candy bars to all who will listen.
Equal Pay Day is the symbolic day when women's earnings "catch up" to men's earnings from the previous year. It's also a powerful occasion to raise awareness about and organize action around the gender pay gap.
Monday, April 15: Branch meeting. "Denise J. Dean: Freedom School"
Denise J. Dean is the Project Director for Freedom Schools in Knoxville and Alcoa. This will be the school's second summer in Alcoa. Freedom Schools focus on literacy, integrating it into a broad and engaging curriculum that aims at inspiring students and reinforcing important fundamental concepts. The readers and instructors are drawn from the local communities of each school. The public is invited to come learn more about this exciting educational program! We will begin at 5:30 with time for socializing. A brief business meeting for AAUW members and other interested attendees will follow the program.
Monday, March 28, 2019
Women's Words; Girls' Voices. A celebration of Women's History Month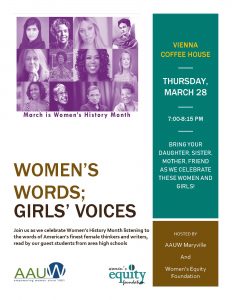 An enthusiastic crowd  joined us in celebrating Women's History Month and applauded our guest area high school and Maryville College students who read the words of some of American's finest female thinkers and writers.
Thanks to Wendy Pitts Reeves, Vandy Kemp, the high school teachers who assisted, the brave young women who read for us, and Vienna Coffee House for hosting!
———————————————-
Super Expanding Your Horizons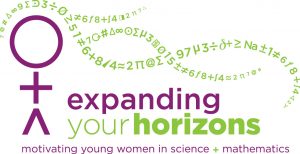 AAUW Maryville Branch and the Women's Equity Foundation sponsored the third Expanding Your Horizons event in East Tennessee organized by AAUW member Maria Toncray. EYH, a conference for girls in middle school, is a daylong event that includes hands-on STEM activities led by active women scientists. The fifty-five girls in attendance met role models and learned about careers in those fields. The 2018 event included a keynote speech by Jaclyn T. Badeau, CPA, CGMA, MBA from Tempur Sealy International, In. in Lexington, KY. Interactive workshops included: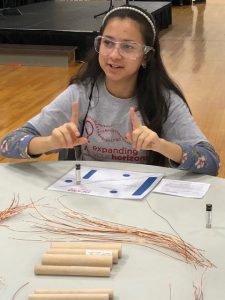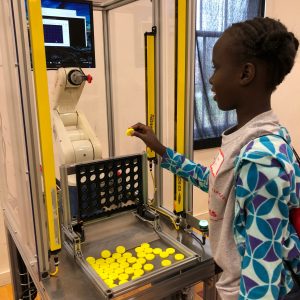 Engineering Design Activities with DENSO engineers and interaction with "Henry the Robot"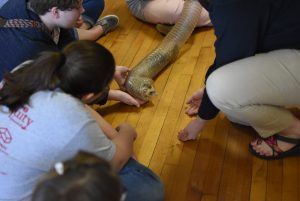 Knoxville Zoo Animal Investigation with live animals guided by Bethany Dunn
Fun with Forensic Chemistry learning crime-solving techniques with Dr. Al Hazari (ret.) of the UT Chemistry Department
Body of Evidence with Tammy L. Jones, TLJ Consulting Group, in which students become CSI sleuths using Texas Instruments calculators to solve a homicide.
Major donors included AAUW Maryville Branch,  Arconic, DENSO, and the Women's Equity Foundation.